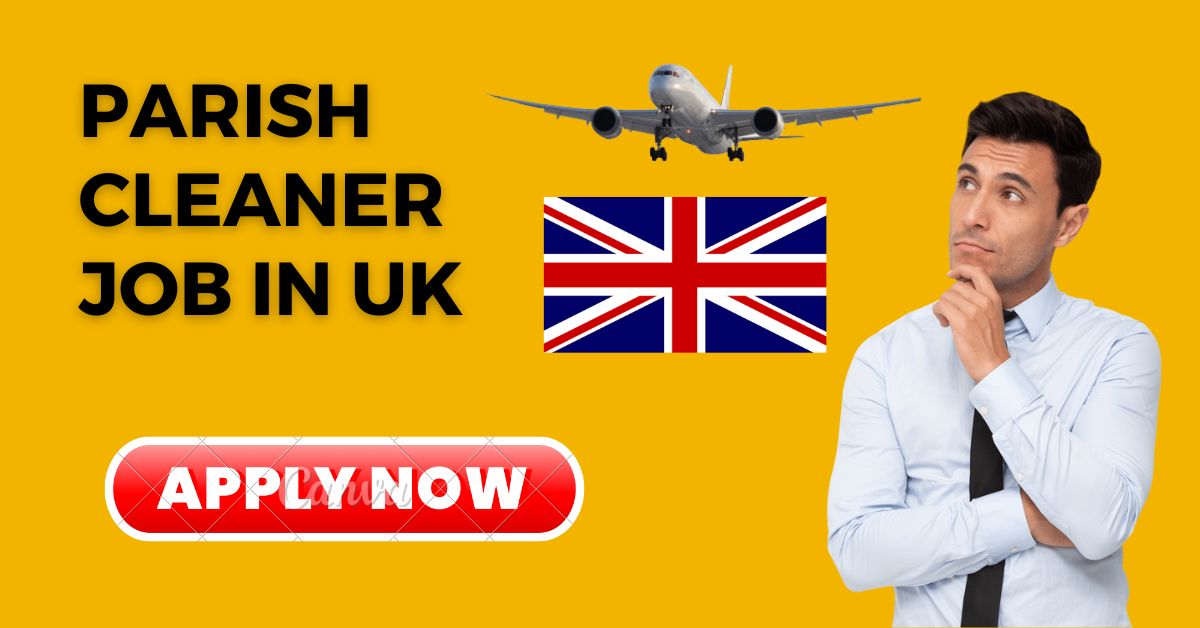 Are You also looking for a job or someone of your family or friend circle needs a job then We have brought a good news for all of you because Parish Cleaner has direct Recruitment for few Vacancies in UK and other UK's cities so we request you to read this article .Read till the end and share this article to everyone who are need of a job in UK.
You can Find other details for Parish Cleaner Job In Uk .Other details are given here for Parish Cleaner Job In Uk.
Do you have experience working as a cleaner? Would you like to make a real difference, using your skills to support a parish communit
Need For Apply:
Passport
Experience about cleaning
Age between 21 to 40 years
Before apply you must know English language
We Provide best jobs details which are available in the world
About the role:
Cleaning rooms
About you:
you have a must experience about cleaning rooms and parish
Benefits:
As per your work you achieve this types of extra Bonuses are as given below
£8K Death in Service benefit (all staff)
Access to low cost loans with Churches Mutual
Employee Assistance Program
Cycle to Work scheme
5% pension contribution – Standard Life
Location:
Stoke Newington Parish
Working Hours:
6 hours per week (Monday 12:00-15:00 and Friday 12:00-15:00 negotiable)
Salary:
£12.50 per hour
Last date:
7 July 2023
Job Reference:
506- STOKN
To be considered for this position, please complete an online application. Resumes will be considered NOT, so please do not send them in. Only shortlisted applicants will be contacted. Please note that you must be eligible to work in the UK to apply for this position. You must provide proof of your right to work in the UK. We reserve the right to remove the position before the application deadline.
Equal Opportunities:
The Diocese of Westminster is an equal opportunity employer and is recognised as a living wage employer. To be successful, we strive to always put people first and human dignity at the centre. We always strive to hire the person best suited for the job, and we welcome applications from all communities and underrepresented groups, regardless of race, sexual orientation, disability, creed, age or gender. We guarantee an interview to disabled applicants who meet the minimum criteria. We strive to take a holistic approach to workforce development so that we can better serve and strengthen the mission of our church as carried out by the parishes, deaneries, schools and communities we support. Our goal is to work together to foster a more inclusive environment that is attractive to all applicants and signals our commitment to valuing and promoting diversity.
We want people from all walks of life to feel valued for their individuality, thrive in our organisation, share a sense of belonging and demonstrate our values. With this in mind, we positively celebrate Diversity & Inclusion at the Diocese of Westminster and place it at the heart of our aim which is to reflect and connect with the diverse communities that we serve.
Actions we take to provide equality of opportunity for all candidates include:
We anonymize application forms during the selection process to ensure that applicants are assessed without regard to their name, gender or background.
As part of this anonymization, we do not take into account where applicants have studied, nor the type of study, e.g. full-time, part-time or distance learning.
We apply a consistent approach to the wording of questions in our applications and interviews to ensure that each applicant is assessed against established values, competencies and job requirements. Our values are important to us, so we use an assessment framework that evaluates applicants based on values, behaviours, and competencies.
We provide guidance to our interviewers throughout the selection process and inform them of best practises in personnel selection to reduce the potential for conscious or unconscious bias or discrimination. Whenever possible, we will have multiple interviewers assess each applicant to ensure accurate and fair evaluation.
We will ensure that all of our assessment locations are accessible. We offer alternative formats for our application forms to allow applicants with disabilities or applicants who need reasonable accommodations to put their best foot forward.
We work with applicants with a disability or health condition to make reasonable adjustments to help them feel comfortable and able to exert themselves during the assessment process.