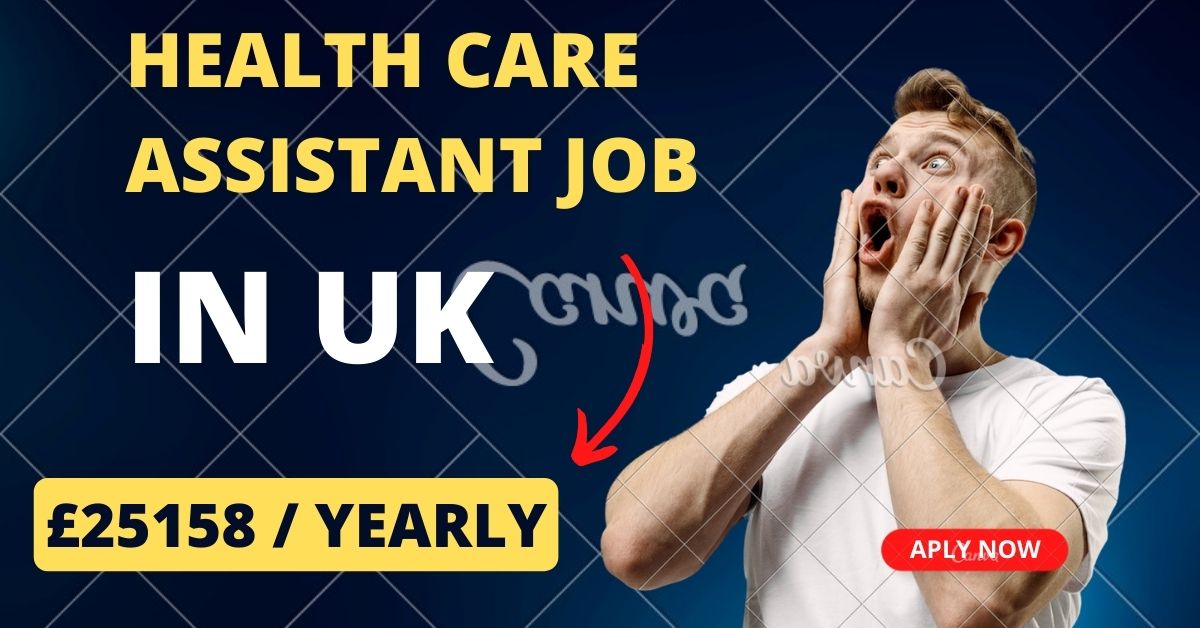 Health Care Assistant Job in Uk
Are You also looking for a job or someone of your family or friend circle needs a job then We have brought a good news for all of you because Health Care Assistant Job in UK for few Vacancies in London of UK so we request you to read this article .Read till the end and share this article to everyone who are need of a job in London of UK.
You can Find other details for Health Care Assistant Job in Uk. Other details are given here for Health Care Assistant Job in UK.
Salary
£25,158 – £26,206 per annum(year)
Type of Employment
Shift and schedule
Weekend availability
Day shift
Experience
No experience? No problem. You don't need healthcare experience to work at King's as a Health Care Assistant (HCA). It's more important to us that you are a friendly, respectful team player who wants to help and support our patients, their families and colleagues. We will teach you everything you need to know.
What you have to do
Support our Nursing Staff
Support Midwifery teams
Caring for our Patients
Help Patients
Help Patients Families
As an Auxiliary, you will be a valuable support to our nursing and midwifery teams in caring for our patients. Every day will be different, and you will work with the rest of the team performing a wide range of tasks and assisting with care to support the needs of patients and their families.
We welcome applications from all backgrounds because we care for people from different backgrounds and know that a diversity of ideas, experiences and perspectives improves our service.
In your daily work
Washing and dressing patients
Monitoring and recording clinical observations
Assisting patients with eating and drinking
Assisting patients with ambulation
Making beds and ensuring a clean, safe clinical area
Engaging in conversations with patients and their families
Manage supplies of linens and other materials
The position involves shift work
Early and late shifts
Long days
Nights
Weekends
The position involves shift work (early and late shifts, long days, nights and weekends), so the ability to work these shifts is essential. However, as a company, we support flexible work schedules and have both full-time and part-time positions available.
Training
Future nurses
Nurse-midwives
Nurse-midwives
With our extensive training and dedicated HCA training team, the HCA role can also lead to a variety of career opportunities. With the right support, those who wish to do so can complete the necessary training to become our future nurses, nurse-midwives, and nurse-midwives.
King's University Hospital
King's University Hospital NHS Foundation Trust is one of the UK's largest and busiest teaching hospitals, with a turnover of approximately £1 billion, 1.5 million patient contacts per year and more than 15,000 staff in southeast London. The Trust provides a wide range of local and specialist services across its five sites. The Trust-wide strategy, Strong Roots, Global Reach, is our vision: BOLD, Brilliant people, outstanding care, leaders in research, innovation and education, diversity, equality and inclusion at the heart of everything we do. By putting people first, embracing digital opportunities and focusing on sustainability, we aim to take Team King's to the next level.
We are at a pivotal point in our history and are looking for people who are ready to join a highly professional team and make a real, lasting difference for our patients and our employees.
King's is committed to providing sustainable healthcare for all through its Green Plan. In line with national ambitions for a greener NHS, we have set a net zero target of 2040 for our NHS Carbon Footprint and 2045 for our NHS Carbon Footprint Plus. Everyone must play their part in achieving the targets set out in our Environmental Plan and we encourage all staff to work responsibly and minimise their contribution to the Trust's carbon emissions, waste and pollution wherever possible.
Provide supervised care support in collaboration with the multidisciplinary team.
Assist with clinical duties to ensure the effective running of the ward/department.
Maintain own personal development with the support of the ward/department manager
For more information on the duties and responsibilities, please click on the link below for the full job description and job specifications.
Requirements profile
Qualifications and Skills
Functional Skills Level 1 in numeracy and literacy or GCSEs Maths
English with grades A-E or 9-2.
Evidence of the ability to work well with other team members
including effective communication
kindness and consideration
reliability
enthusiasm
Evidence of good customer service skills/supportive interactions with others
Note
PLEASE NOTE, WE WILL CLOSE THIS ADVERT EARLY IF A HIGH NUMBER OF APPLICATIONS IS RECEIVED.
We give all information in this post is correct but if any error will their, then we will not be responsible for it .Please visit official website and Read notification carefully. Link is given above .Check it.
Important Link
Apply Online : Click Here
If site will unavailable then try again after some time.
More Foreign Jobs : Click Here