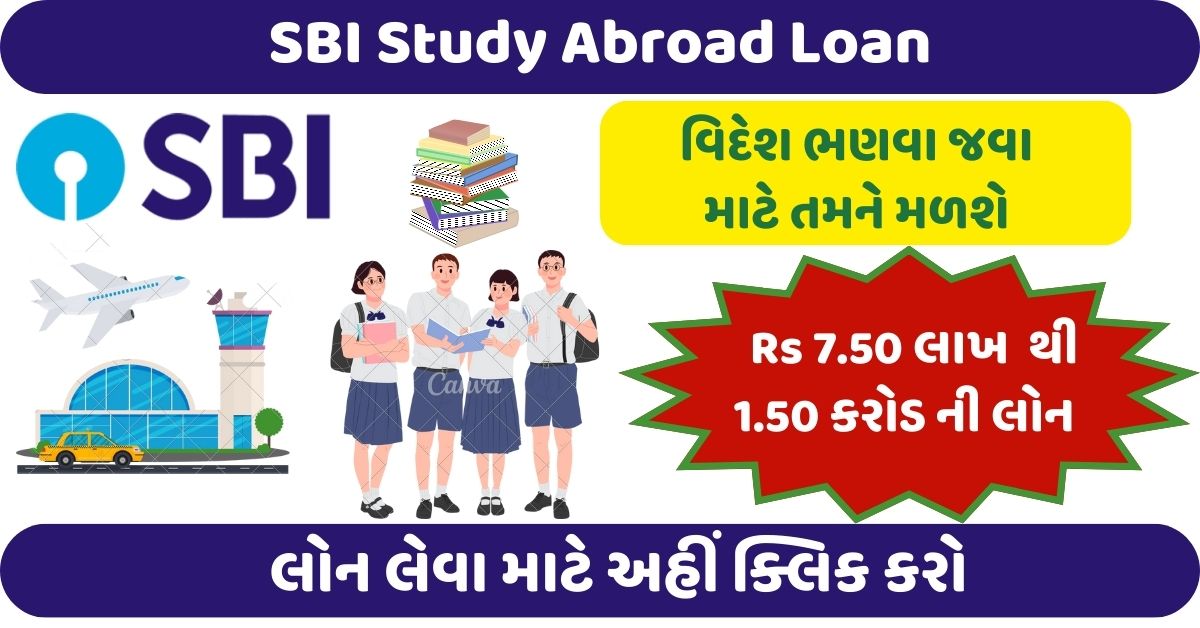 SBI Study Abroad Loan for all students .If you have to study out of country then do not worry about money. Because SBI Study Abroad Loan is only for you. Yes you also can get Loan to study in abroad. You can get Maximum Rs 7.50 lakh loan for study in aboard. You can get loan to study Graduate Degree/Post-Graduate Degree/Diploma/Certificate/Doctorate in Aboard Country. Also you can get loans for all higher level courses.
You can get Loan to study in USA, UK, Canada, Australia, Singapore, Japan, Hong Kong, New Zealand and Europe [Austria, Belgium, Czech Republic, Denmark, Estonia, Finland, France, Germany, Greece, Ireland, Italy, Netherlands, Norway, Poland, Portugal, Russia, Spain, Sweden, Switzerland, United Kingdom].
Loans Details of SBI Study Abroad Loan
| | |
| --- | --- |
| Minimum Loan | Rs 7.50 Lakh |
| Maximum Loan | Rs 1.50 Crores |
Repayment
Accrued interest during the moratorium to be added to the principal and repayment in EMI fixed.
Repayment will commence 6 months after completion of course
Repayment upto maximum of 15 years
Education
Graduate Degree
Post-Graduate Degree
Diploma
Certificate
Doctorate
Loans For
Fee payable to college/school/hostel.
Examination/Library/Laboratory fee.
Travel expenses/passage money for studies abroad.
Important
Purchase of books/equipments/instruments/uniforms/ computer at reasonable cost, if required for course completion and any other expense required to complete the course– like study tours, project work, thesis, etc. can be considered for loan subject to the condition that these should be capped at 20% of the total tuition fees payable for completion of the course.
Caution deposit /building fund/refundable deposit supported by Institution bills/receipts the amount considered for loan should not exceed 10% of the tuition fees for the entire course.
Important Document
Mark sheet of 10th, 12th, Graduation (if applicable), Entrance Exam Result
Proof of admission to course [ Offer Letter/ Admission Letter/ ID card if available]
Schedule of expenses for course
Copies of letter conferring scholarship, free-ship, etc.
Gap certificate, if applicable (self-declaration from student for gap in studies)
Passport size photographs of Student / Parent / Co-borrower / Guarantor (1copy each)
Asset-Liability Statement of Co-applicant / Guarantor (Applicable for loans above Rs 7.50 lacs)
Bank Account Statement for the last six months of Parent / Guardian/ Guarantor
Copy of Sale Deed and other documents of title to property in respect of immovable property offered as collateral security / Photocopy of Liquid Security offered as collateral
Permanent Account Number (PAN) of Student / Parent / Co-borrower / Guarantor
AADHAAR (mandatory, if eligible under various interest subsidy schemes of GOI)
Passport (mandatory for Studies Abroad)
Submission of OVD (refer to table below)
How to repay the loan?
You have to repay money at time.The loan amount must be repaid within a maximum of 15 year.
How to Apply?
You have to apply Online
Then you have to submit your document.
Apply Steps
Link is given below
Open It
Fill all Your personal details
Enter loan details
Enter Account Number
Upload Document
Submit it
Also Read this
Note
The student has to complete the course within the stipulated time limit. If the applications returned to the student for completion are not completed and sent within the deadline, the application will be rejected.
We give all information in this post is correct but if any error will their, then we will not be responsible for it .Please visit official website and Read notification carefully. Link is given above .Check it.
Important Link